Why Choose Milwaukee?
There are many reasons to choose Milwaukee. First, it makes tools geared specifically for the trades. Whether it's for plumbing, electricity, or construction, Milwaukee's tools help workers perform tasks without modification. They are durable, too.
The company is always on the lookout for ways to make improvements. Sometimes, it's improving the performance of existing tools. Other times, it's coming up with innovations that make jobs easier. Also, many cordless tools can operate on the same battery, allowing you to move quickly from one tool to the next. Finally, the company dedicates itself to finding safe, efficient solutions at wallet-friendly prices.
History
The Milwaukee Electric Tool Company was formed in 1924 after a fire destroyed the A.H. Petersen Tool Company. But before the fire, industrialist and business magnate Henry Ford commissioned A.H. Petersen to make a quarter-inch power drill that would make the assembly line run more efficiently. The task: to make the tool lighter, more powerful, and more precise. Since the Petersen Tool Company was Ford's tool and die supplier, he had faith that Petersen could meet the challenge. And he did.
Petersen named the tool the Hole-Shooter. It was the first single-handed, quarter-inch capacity drill. It weighed only 5 pounds, which increased production dramatically. With this new tool, a worker could hold a piece with one hand and drill with the other. Previously, it took two men to do the job. The Hole-Shooter's success meant more business for Ford and the Petersen Tool Company.
In 1924, Siebert purchased the leftover assets of A.H. Petersen at auction. Soon after, he opened the Milwaukee Electric Corporation. He planned to ride the wave of Petersen's Hole-Shooter and quickly started production. But other manufacturers were already making versions of the Hole-Shooter. Since Siebert had connections at Ford, he solicited the techs on the assembly line. Their critiques helped determine what issues to address. Siebert took the feedback he received and upgraded the design specs of the Hole-Shooter. The upgrade made the tool more efficient.
As the company branched into other areas, it dropped the word electric from its name. Currently, it is referred to as Milwaukee Tool or simply Milwaukee.
Founding and Milestones
Even with the Hole-Shooter's success, Milwaukee needed to repair other manufacturers' tools to stay afloat. Since Siebert had his employees keep track of the problems people were having with the tools Milwaukee repaired, it was easy to spot design flaws. And with the help of Milwaukee engineers, Siebert made the Hole-Shooter more durable. In fact, it became the go-to tool for those in the metal and automotive industries.
In the 1930s, the U.S. government granted Milwaukee a contract. Consequently, the company manufactured all the tools for the U.S. Navy. In 1935, Milwaukee introduced the hammer drill, a lightweight tool used to set anchors. But end-users didn't use the tool as intended. Instead, they converted for use as a three-quarter-inch drill like the Hole-Shooter. In response to a request from the metalworking industry, Milwaukee designed a single-horsepower sander/grinder. Not only was the tool lightweight (15 pounds), but it could also withstand daily use.
By 1949, Milwaukee had cornered the market on single-handed drills. That same year, the company set its sights on the trade industry. It released a right-angle drill specifically for electricians and plumbers. This device easily fits between studs, allowing plumbers to bore holes for pipes and electricians to drill holes for wires. The trade-specific approach proved successful and Milwaukee carved out its niche: to make lightweight, powerful trade-specific tools.
Two years later, Milwaukee manufactured the Sawzall. This reciprocating saw easily cut through wood and metal. In the 1960s, the company expanded its lineup to include a portable bandsaw. And by the '70s, Milwaukee Tool was the go-to company for modern tradesmen. Next, Milwaukee released the Hole Hawg, a high-torque drill that bored holes between studs and joists with little effort. This would be the last tool the company made before changing hands.
Over the years, Milwaukee was bought and sold several times. The first exchange took place in 1975 when AmStar purchased the company. AmStar then sold the business to Kohlberg Kravis Roberts (KKR) in 1983. Three years later, Merrill Lynch bought Milwaukee. In 1995, Merrill Lynch sold Milwaukee to a Swedish-based company named Atlas Copco. Ten years later, Hong-Kong based TTI (Techtronics Industries) acquired Milwaukee. Consequently, TTI became the second-largest tool company in the world. In addition to Milwaukee, TTI owns Homelite, VAX, Dirt Devil, and Ryobi.
Production and Manufacturing
As the new owners, TTI used lithium-ion battery technology to revolutionize the Milwaukee power tool line. This new tech allowed the company to leap over other brands and continue its commitment to supporting trade-specific industries. With the cordless job site on its radar, Milwaukee assembled a team of engineers to design a complete line of tools geared to make jobs easier for plumbers, electricians, and construction workers. Later, they would find ways to cater to underserved markets like HVAC and mechanical maintenance.
Products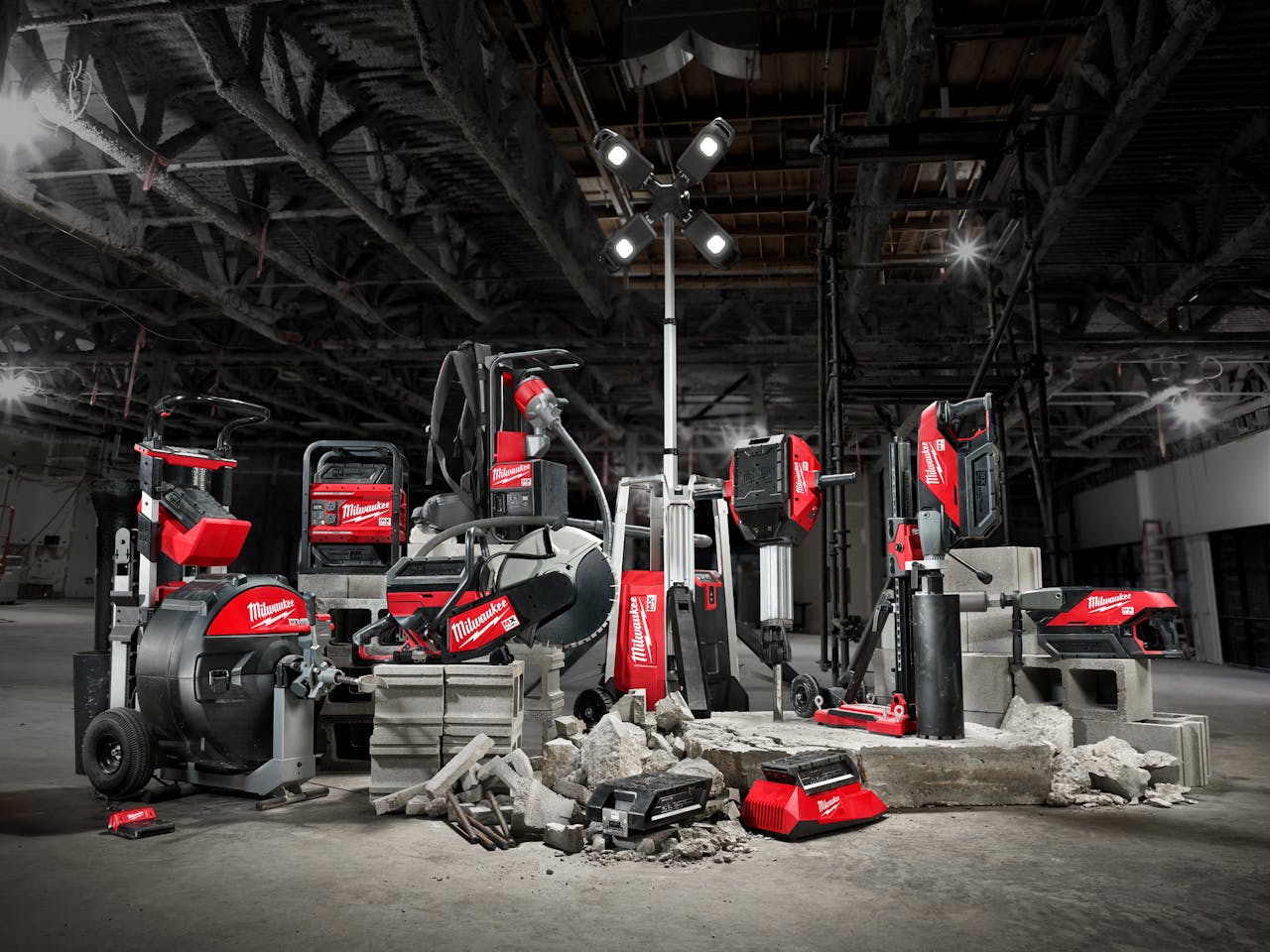 In the '90s, Milwaukee introduced the Super Sawzall. It featured a built-in counter-balance and a gear-protecting clutch. This fast, vibration-free reciprocal saw set a new industry standard. It has five separate patents. Milwaukee also introduced a new line of miter saws and extended its lineup to include 18-volt Contractor Cordless tools that operated from the same battery and charger system.
In 2005, Milwaukee became the first tool manufacturer to use a lithium-ion battery in its cordless tools. When Milwaukee unveiled its line of V28 cordless tools, they announced the devices operated using a lithium-ion battery.
With its purchase of Stiletto Tool company in 2008, Milwaukee entered the hand tool market. Stiletto was a leading manufacturer of titanium hammers. The same year the company developed a cryogenic hardening process called Ice Hardened™. Milwaukee claims this strengthening technology allows its accessories to last 50% longer than its competitors.
In 2013, Milwaukee launched its M18 fuel system. It combines its three proprietary technologies: red lithium battery packs, power state brushless motors, and its exclusive Redlink plus on-board electronic system.
Another significant development occurred in 2014 when Milwaukee launched the first of a series of high-force tools called the Force Logic Knock Out.
In 2019, Milwaukee unveiled a collection of cordless tools for shop-based woodworkers and installers. The lineup includes a cordless router, multi-head cordless drill drivers, and a full-size cordless miter saw. Also, cordless framing nailers, cordless brad nailers, and cordless assembly staplers.
In 2020, the company released the Milwaukee carry-on power station. Dubbed the MX FUEL 3600W/1800W Power Supply, this cordless generator promises to not only power a range of tools, but also operate quietly.
Manufacturing
Milwaukee designs and manufactures its battery packs and motors in-house, giving them the edge in bringing unique tools to market. The company uses state-of-the-art technologies and first-rate manufacturing techniques to produce over 500 tools and 3,000 accessories. Currently, the company employs over 7,600 people across the globe. Although Milwaukee is a Hong Kong-based company it is committed to manufacturing its products in the United States. Besides operational and training facilities in Wisconsin, Milwaukee has distribution and manufacturing plants in Mississippi, Tennessee, and Indiana.
In 2008, Milwaukee opened the Pudwill Leadership Center, a 15,000 square-foot training facility located within Milwaukee's corporate headquarters in Brookfield, Wisconsin. Not only do employees receive training at the facility, but also distributor partners and professional end-users.
Key Facts
Milwaukee's parent company, TTI has always included the environmental impact of its business on the communities where it operates and society as a whole. So when it purchased Milwaukee, it took a look at the broader picture. As a result, they applied their sustainability policies and objectives to Milwaukee.
It's no wonder Milwaukee's commitment to sustainability is directly related to its drive for innovation. With this in mind, the company continuously develops solutions that support conservation resources, reduce waste, and improve energy efficiency. For example, the MX Fuel Carry-On 3600-Watt Ion Battery Powered Push Start has zero emissions and eliminates the need for gasoline.
Milwaukee has been recycling rechargeable batteries for over 20 years. The company's B2B take-back service recycles battery components to reduce raw materials and waste. Also, the MX Fuel system allows tools to operate with no CO2 emissions or particulates. With no CO2 emissions or particulates, the MX Fuel system provides a safer and healthier environment. The company also changed its packaging to reduce the raw materials and waste produced.
Warranty Information
All Milwaukee tools come with a warranty. Still, the terms differ from product to product. The 1800-Watt Lithium-Ion Battery Powered Push Start generator, for example, has a two-year warranty against defects in material and workmanship.
Although you don't need to show proof of purchase, the company suggests you hold on to the receipt to help determine which warranty applies to your tools. In some cases, Milwaukee may be able to use the date code to look up the terms of your warranty. You can look up warranty information on the Milwaukee website.
Check Out More Milwaukee Content From Power Station Pros
Take a look at the in-depth reviews, product round-ups, and more. Here, you'll find everything you need to make a smart buying decision.
Milwaukee Product Reviews
When you need portable power, Milwaukee Power Stations releases power on demand. We review models like the Milwaukee MX Fuel Power Station which offers 3,600 peak watts and 1,800 watts of continuous power. It's compact, ground fault isolated, and emits zero emissions, making it safe for indoor or outdoor use.
Milwaukee Product Roundups
We offer a comprehensive look at some of Milwaukee Tool's top-selling products. Take a look at the Milwaukee portable power station and other tools for indoor and outdoor use.
Milwaukee Press Releases
Stay in the loop by visiting Milwaukee Tool's press release page. You'll get up-to-date information on new products and more.
Milwaukee Recalls
Anytime there is a concern about product safety or recalled products, Milwaukee lists posts an announcement on its Safety Notice page.
Where To Buy
You can find Milwaukee Tools at the following online retailers.
Similar Brands
If Milwaukee doesn't offer the product(s) you're looking for, check out one of the competing brands. Here's a list to get you started.
Online Presence
Contact Information
Part of Milwaukee's commitment is to offer support whenever needed. If you ever have an issue or concern, you can reach out to customer service for a prompt reply. You have the option of filling out a contact form on the website or calling the toll-free number, which is 1-800-SAWDUST (1-800-729-3878).